Contact Information
RE Office:
815-730-8691
815-725-8649 Fax
Absentee Line:
815-531-3767

Staff
Leslie Krauledis
Director of Religious
Education
Susan Stachovic
Administrative Asssitant
Alita Guerrero
Night Coordinator
Click here for General Info:
Click here for Schedule:
Click here for Registration:
Registration Information and Welcome letter
Click here for Sacraments:
Please click icon above to access the FACTS online registration system
Holy Family Religious Education
Believers Together with Glad and Sincere Hearts
OFFICE HOURS

Monday, Wednesday, Thursday
2:00pm - 7:00pm
Or you can make an appointment with the RE Office through
Email: RE@holyfamilyshorewood.org
Absentee line: 815-531-3767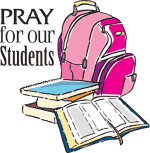 Passing on our faith and Catholic

traditions is an important element

in the development of our children.

Your priority becomes our priority.

We are now open for REGISTRATION

for RE 2016/2017. Our office hours

are Monday, Wednesday and Thursday

from 2pm-7pm. Forms are available

online or at the back of church.
2016/2017
(Current 8th graders)
2017/2016
(Current 7th graders)
Confirmation packets are due the week of October 30th.
All registration forms, financial information, and photo release form are accessible through the links on the left side of this page.
Please feel free to download the forms and turn them into the RE Office.
Let's pray for a safe, healthy school year for all our children. May they show kindness and respect to others. May they be filled with a lightness of spirit. Remember, Holy Family is your home, you are always welcome here.
Religious Ed. News
Religious Ed. Calendar