Contact Information
RE Office:
815-730-8691
815-725-8649 Fax
Absentee Line:
815-531-3767

Staff
Leslie Krauledis
Director of Religious
Education
Susan Stachovic
Administrative Asssitant
Therese Maringer
Night Coordinator
Maureen Schuchart
Office Assistant
Kathy Beyer
Office Assistant
Click here for General Info:
Click here for Registration:
2017/2018 Registration, Tuition & Fees, Photo Release
Click here for Sacraments:
2017/2018 8th grade Confirmation Handbook
Please click icon above to access the FACTS online registration system
Holy Family Religious Education
Believers Together with Glad and Sincere Hearts
OFFICE HOURS Monday, Wednesday, Thursday
2:00pm - 7:00pm
Or you can make an appointment with the RE Office through
Email: RE@holyfamilyshorewood.org
THE RE OFFICE WILL BE CLOSED THE WEEK OF NOVEMBER 20TH AND WILL RE-OPEN MONDAY, NOVEMBER 27TH.
THERE ARE NO RE CLASSES
NOVEMBER 20TH THROUGH NOVEMBER 26TH.
CLASSES WILL RESUME MONDAY, NOVEMBER 27TH.

REGISTRATIONS 2017/2018
The RE Office is now
accepting registrations.
Please bring your child's Baptism certificate if he/she is new to our program.
DO NOT MAIL, drop-off, or leave your registrations in the Sunday collection basket. Families must register in person.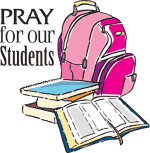 Class of 2017/2018
(Current 8th graders)
CONFIRMATION PACKETS
Due the week of October 15th
All packets MUST BE TURNED IN even if there are no reports completed.

PARISH MISSION (Spiritual Experience)
November 5th, 6th, 7th, 2017
Sunday thru Tuesday at 7:00pm in church
(Each night you attend the Parish Mission, you will receive one hour of Spiritual Experience.)
-SAINT REPORT: Reflection on my Confirmation Name

Due the week of December 3rd


-SACRAMENT REGISTRATION FORM
Due the week of December 3rd
CONFIRMATION PACKETS
Due the week of January 7th
All packets MUST BE TURNED IN even if there is no service completed.

-PERMISSION FORM FOR CONFIRMATION RETREAT
Due the week of January 7th



-SPONSOR FORM
Due the week of January 21st
7th & 8th gr. CONFIRMATION PRESENTATION
"Way of Jesus"
Wednesday, February 7th - 6:30pm Required for all 7th & 8th gr. Students.
Parents are strongly encouraged to attend.
RE students in 7th and 8th grade will not have class so they can attend this evening.
Confirmation Retreat (required)
Saturday, February 10th - 5:00pm-9:00pm in the gym or
Saturday, March 3rd – 5:00pm-9:00pm in the gym
(your choice – a maximum of 75 Candidates per day – first come, first served by signed permission forms.)
A snack will be served – no dinner.
-LETTER TO PASTOR
Due the week of March 4th

CONFIRMATION PACKETS & REQUIREMENTS
Due the week of April 8th
All packets and requirements MUST BE COMPLETED AND TURNED IN.
(This is the final date for all homily, service and spiritual hours to be turned in.)
Clas2018/2019
(Current 7th graders)
Let's pray for a safe, healthy school year for all our children. May they show kindness and respect to others. May they be filled with a lightness of spirit. Remember, Holy Family is your home, you are always welcome here.
All registration forms, financial information, and photo release forms are accessible through the links on the left side of this page.
Religious Ed. News
Religious Ed. Calendar